Magadh Mahila College Management Information System (MMC MIS)
To ensure the quality of education, working transparency, paperless office and students' safety, Magadh Mahila College becomes the 1st Institution of the state that has implemented the Management Information System (MIS) in the College premises.
MMC MIS is going to provide a lot of benefit to Students, Parents, Staff, Teachers as well as administrator. For safety, now we will have data like their Image, Purpose of visit, ID Card information etc. of every visitors/person coming to the College. We have implemented the RFID Attendance System, that allows us to make attendance automated and more secure. This RFID System is available in all classrooms. Now we will have data of students' entry time, exit time and their classroom attendance record. We have taken this one level up by integrating "Parents Portal". Now parents will be auto notified when their ward will enter college also, they can check daily/weekly /monthly attendance of their ward.
The biggest advantage of MMC MIS is that now we can host our all courses/ classes virtually. All teachers are now capable of running online classes simultaneously. We have made a dedicated "Android APP" for students where they can see their scheduled classes according to their Course/Honours enrolled.
Students will receive Assignments, Homework and important Notifications through the APP and they can give online assessment test or examination also. Now students will have an option to raise a complaint through application if they face any issue in the College.
Now, in the Administrative Department, our Staff and Teachers have dedicated portal according to their roles. Attendance of teaching faculty and non-teaching staff will be done automatically with RFID devices and saved. The MIS will make things more transparent. From now onwards all the Income, Expense and issued funds will have digital records that can be accessed any time by the administration. The MMC MIS will make office paperless. It will be helpful for both students and administration. The complete cycle of student from application of admission to issuance of transfer certificate including fee payment will be done digitally. We take care of our students and privacy of their personal data. Keeping this in mind, we have implemented our own in-house private data server. This will give us more data privacy and security.
Management Information System (MMC MIS)
Access Profile / Student Dashboard
Edit / Modify certain information in profile
Access Class Routine
Access College Holiday List
Access Study Materials Uploaded by Faculty Members
Access Attendance
Important Links of Notice boards
Feedback Forms
Request for Various services (CLC, Migration)
Link to Library
Request in master data updating
Leave Application
Payment of fees for various
Alumni Registration
Alumni Profile Management / dashboard
Alumni Fee Collection.
Access uploaded study materials by faculty
Access Assignments Shared by college / department / faculty
Access Profile / Teaching Staff Dashboard
Edit / Modify certain information in profile
Student Attendance
Access Routine
Leave Application
Access College Holiday List
Office Staff / Management Module
Access Profile / Staff Dashboard
Access / Modify Student master data with all possible filters.
Access to various request of Migration / Master data updating / CLC
Reports for Fee Collection
Hostel detailed profile
Manage Hostel wise / room wise inventory
Allot Hostel Beds / Room
Hostel fee payment collection
Leave Application
Keep track of all asset
Complete details with provision to add photo graphs of items also
Add / edit records
Item wise / department wise /Funding wise / purchase order wise report
Send alert SMS to Staff members with filter
Send alert SMS to Students with filter
Create notification course / year wise
Students can complain for anything
Each complain is given a unique ticket number
Each such complain can be presented in thread view showing conversation between student and management
Department wise grievances redressal may be given
A Grievances can be transferred from one department to another department.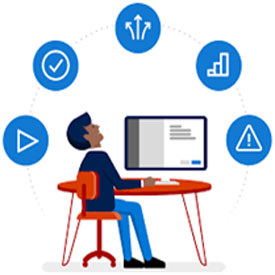 Parents can check the attendance
Parents can check the profile
Send feedback &complain to college
user can register in LMS, after registration student account will activated after verified by librarian.
user can login
user can update their profile
user can search book
user can see their taken book with details like books submission date, book issue dates etc.
user will get notification if librarian send any message.
user can give reply of librarian message
librarian can login
librarian can add new book details
librarian can edit book details
librarian can delete book details
librarian can verify student details
librarian can issue books to students
librarian can add return books in stocks means student books return functionalities
librarian can see all books with stocks.
librarian can search books
librarian can search students
librarian can see that how many students have books right now.
librarian can send message to student regarding their books pending so student can see notification.
librarian can find books as per publication name or author name