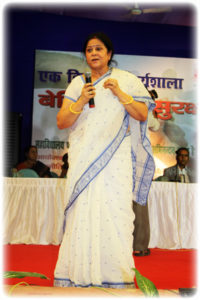 Magadh Mahila College, a pioneer institution of higher education is a multi-faculty institution offering quality teaching in Bachelor (Honours) Degree Courses in Humanities, Social Sciences, Commerce, Management, Computer Applications as well as Physical and Life Sciences.The college also offers Post Graduate Courses in five subjects and various Vocational Courses are also conducted under Self-financing Schemes. Our students have excelled in academics, as well as in sports and music for the last seven decades. They have also brought accolades for the college with their extra ordinary performances in Management, Software Engineering and I.T Sectors.
Our method of Teaching and Learning is centred on equipping our students to make a success of their lives. As the Centre of excellence in education, skill development and overall development of students, the college provides perennial flowing environment of self-learning, to become flexible to meet the women centric challenges by inculcating innovative educational methods.
At Magadh Mahila College we are always with our students to empower themwith academic, cultural, administrative knowledge and skills to compete the challenges of emerging global economy by their intelligence, creativity and efficient learning ability. We are committed to provide a quality education for all our students. We believe that each student is special and has potential to excel in different fields, so that every student has the opportunities to reach her academic potential.
We are grateful to all the support we receive from Patna University, University Grant Commission (UGC), Rashtriya Uchchatar Shiksha Abhiyan (RUSA) and Govt. of Bihar.
We are looking forward for the cooperation and support from all the Parents, Alumnae, Staff and Students to join hands with us to fulfil our Mission, Vision and Objectives, so that we create a learning environment that facilitates the individual development of students with new ideas and capacity to make difference in themselves and society by upholding values of respect and humanism.
I am very proud to be Principal of such a committed and dynamic institution and sincerely wish that our each student overcomes all the obstacles on their way to achieve their goal.
Almighty bless one and all
Prof. (Dr.) Shashi Sharma
Principal