National Cadet Corp ( NCC )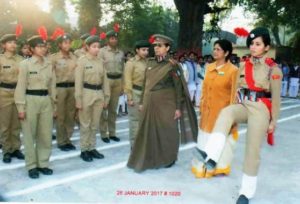 The college has one troop of Bihar Girls Battalion of NCC form its inception. The cadets of NCC take part in parade regularly. They also participate in Republic Day Parade and National Integrity Camps. Three years of training in NCC involves "B" and "C" certificate exams, held in 2nd year and 3rd year of graduation respectively. It also gives various scholarships to deserving cadets.
Achievements of our cadets have made Magadh Mahila College NCC unit one of the best in the Patna Directorate. They have got 1st prize in "Drill" in the Independence Day Parade on 15th of August, 2004.They were awarded a shield by the then Chief Minister. Cadets believe that the college provides them an edge over the others for which they are extremely grateful to the institution.
Apart from NCC, they also participate in social works, Pulse Polio Eradication Programme by UNICEF & AIDS awareness programme etc.
One of our faculty member Dr. Pushplata Kumari, Deartment of Political Science has been designated as Lieutenant.